Spooky - misty forest with bat in silhouette 5in card
Posted on
Hi Craft Addicts!
Well Hallowe'en is tomorrow and I have saved this one till last as it is the one that I am in a way most proud of - I hand painted the background first and then had the "Eureka" moment to make this card...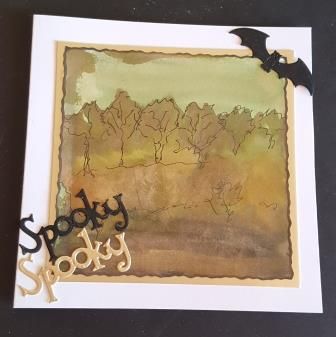 How I made this card:-
As mentioned before, I hand painted the background some time ago (on a pre-cut Deckle Edged White card) using watercoloiur Mica sparkle paints. I had a vague idea that I wanted it to be a forest scene but not the normal blue one - so used greens, yellow and greys to create it.
Once it was dry, I left it for a couple of days as I wanted to see if it worked as the forest before doing anything more - luckily it did!
I then used the latest Sheena Douglass Cartridge pen to outline the trees and bits of scenery.
I edged it with a black alcohol marker and then attached it with some PVA glue to a panel of Matt Gold Mirror Card (leaving a narrow border all around it).
I cut out the Spooky word in the same gold Mirror card and also another in black card,
I glued the main background to the front of a 5" white card (again using PVA glue) and then added the two words to the bottom left hand corner, placing the black one slightly above the gold one.
I also cut out a bat from another of Sweet Dixie's Hallowe'en range in black card and stuck it to the top right hand corner.
And there you are... a cool hand painted card that would be good for Hallowe'en or other Spooky occasions!