Have a wonderful day flower bud small gift card
Posted on
Hi Craft addicts!
Today's card is a small A7 one that could be used as a greetings card or even a gift tag on that special present!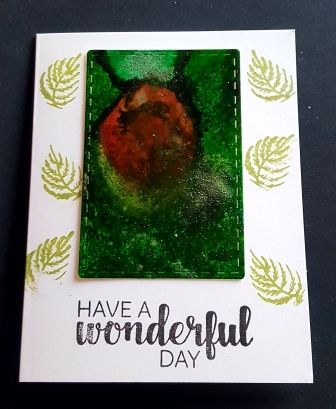 How I made this card:-
I first off created the background which I made using a variety of alcohol inks - predominately from Tim Holtz Ranger set.
I took a peice of A5 Yupo paper (it is a recycled environmentally friendly paper that is great for alcohol ink) and added greens, reds and blues to it until I was happy with the design.
I left it overnight as I wanted to look at it afresh and when I did I saw that one particular spot looked like an abstract red flower bud with leaves so I took a small rectangle and cut it out.
I attached it to the front of a small white card (in this case it is A7) using PVA glue.
I then took a leaf stamp from of Crafter's Companion Blooming Hydrangas set and stamped it either side of the topper using a Green ink cube (Altenew, Rare Earth or Tim Holtz would be perfect).
I then stamped the Have a Wonderful day sentiment (from the same set as the leaf) at the bottom of the card using Gina K Black Amalgam ink.