Hello, Thank You and Just to Say set of 5 cards
Posted on
Hi Craft Addicts!
Today's cards are very easy to make but would make a great present or you can send them to people just to say you are thinking of them!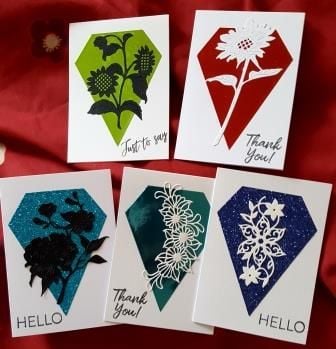 How I made these cards:-
All these cards are made in the same way so won't bore you with each individual one but will concentrate on one - the Hello card on the bottom right hand side....
I used DoCrafts Xcut self adhesive papers to make the background layers - they are a mx of encapsulated glitter and mirror and cut 5 out using the largest of the diamond die from Toni Darroch's Stamps by Me Artistic Mounts - Diamond die set.
I removed the backing paper slowly and place the diamond towards the top of an C6 white card (some are traditional side fold but others are top fold). Once the whole thing was on, I then used the backing paper to burnish them down so they were stuck securely.
I had cut out a lot of flowers using Tattered Lace and Tonic Studios dies (both black and white) and decided to use them as decorations for these cards, so glued them to the diamond with PVA glue - you have to make sure that the glue grabs on the glitter paper but I haven't had any problems with it to be honest.
I then stamped the sentiments either on the right hand or left hand side using a variety of Companies stamps - I used Gina K Black Amalgam ink as it creates a clean image.
As mentioned above, the principle of making these cards are the same and are very easy to make - why not give them in a box with a set of stamps so that someone can send them?