Just for you... Stags in wood 6in square card
Posted on
Hi Craft addicts!
I really enjoyed making this card as it uses a variety of techniques - from stamping to embossing!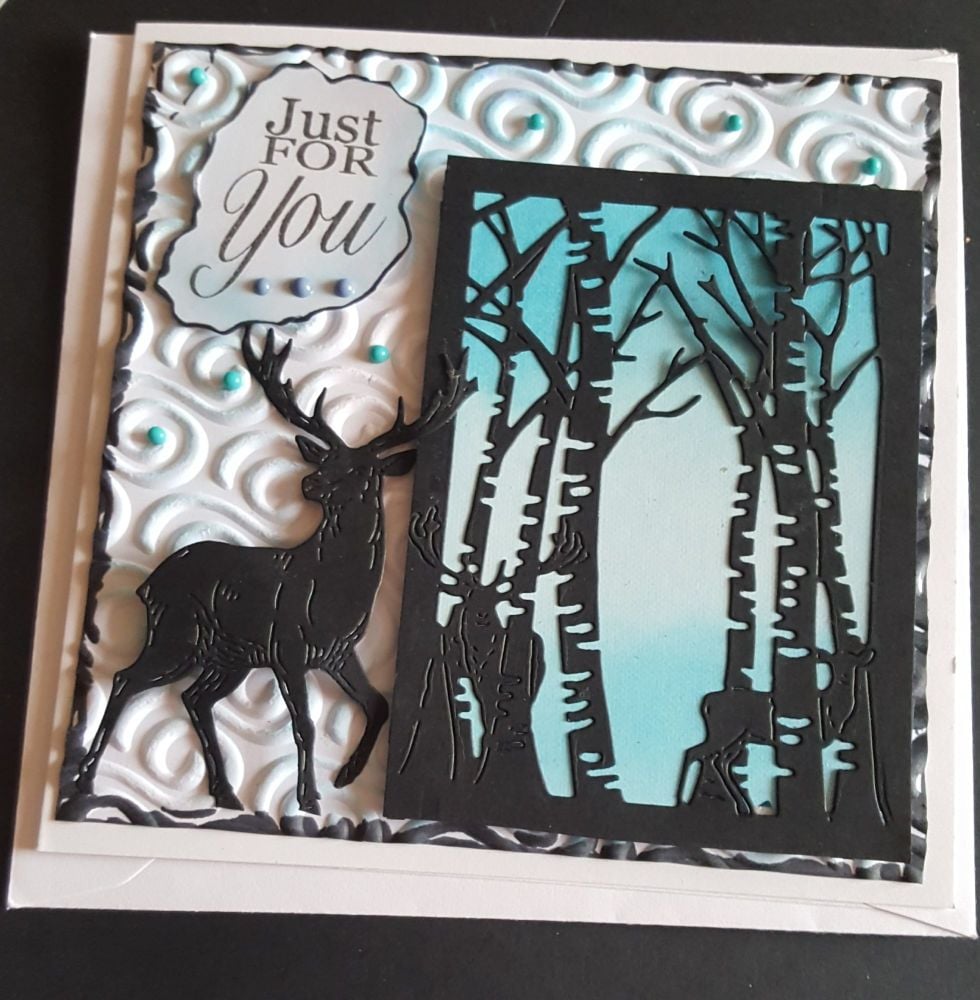 How I made this card:-
I took a piece of white stamping card (you could also use watercolour card) and used a variety of distress/dye based inks to create a sky scene blending them in as well as possible.
I then cut out the stag and forest scene in black card (it is a Tattered Lace Symphony die I think).
I separated them and glued the scene on the background using PVA glue.
I took another piece of white card and this time passed it through an electronic cutting machine with the Ribbon Swirls 3D embossing folder from Creative Expressions.
It is incredible how deep the embossing is, and I used a blue ink pad to rub gently over the swirls to it highlighted the different levels.
I cut it to fit the front of a 6" square card (with a narrow border all around it) and stuck it with PVA to it.
Using some foam pads, I added the forest scene to the bottom right hand corner and then used the foam pads and glue to add the stag to the left hand side.
Finally, I used a Just for You sentiment stamp (I am not sure which Company it is from), stamped it onto some white card with Gina K Black Amalgam ink.
I cut around it, giving it a cloud effect - I then coloured it with a pale blue ink pad and then edged it with a blue alcohol marker.
Finally, I glued it to the top left hand corner with PVA and added some blue Nuvo drops to various places.
Don't forget you can also visit my website Fizzy Designs where you can buy it and find great hints and tips and things that I am selling too! Or why not sign up to my monthly newsletter here