Happy Christmas Santa's Sleigh over Town silhouette C6 card
Posted on
Hi Craft Addicts!
I hope you all had a great weekend? Chilly isn't it? As it is now one month exactly until Christmas time I thought it was time I started to push some Christmas cards I have done!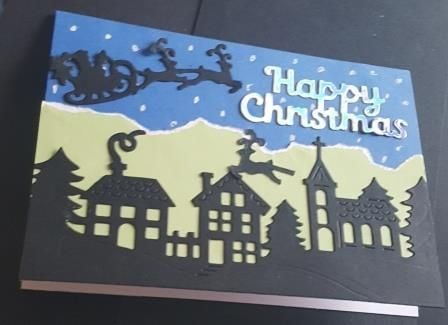 How I made this card:-
I first of all cut a piece of Royal Blue cardstock which fitted half of an A6 white card and glued it into place using PVA glue.
I then took a piece of light green card which was slightly more than half of the card and tore it so it looked like hills.
I used the side where the white core showed through and stuck that to the bottom part of the card again with PVA glue.
I cut out the Santa's sleigh and Town scene out in Black card - the dies are from a set by Sweet Dixie and the card is from Lynda Chapman's World of Paper.
I used PVA glue to attach the Town scene to the bottom of the card.
I cut off one of the Reindeer as the die cut was a bit too long and stuck it to the top of one of the houses. I then glued the sleigh to the top left hand corner.
The Happy Christmas sentiment is another die from Sweet Dixie and I used Holographic card to cut it out and stuck it in the top right hand corner.
Finally, I dotted some white Gel pen specks to look like snow or stars!