Merry Christmas vintage style card
Posted on
Hi Craft addicts!
Today's card is a Christmas card with both a vintage and modern style using only dies and some toppers!!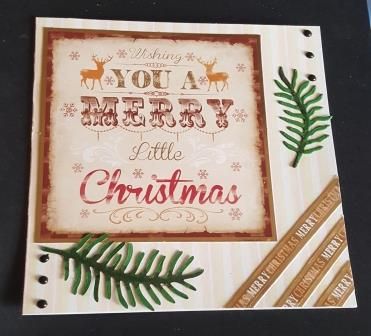 How I made this card:-
I had this cream and white pre cut 6in card for ages andf thought it about time I used it!
I therefore, took all the elements out from one of Hunkydory's Whopper Topper Christmas pads and played around with them until I knew where I wanted them!
I stuck the largest of the toppers to the card using PVA glue.
I then took the longest sentiment strip and measured it against the bottom right hand corner, sticking the smallest one down first and then trimmed it to fit and then repeated it another two times so they increased in size as it went up the card.
I cut out both fir branches (from the Fir Cones die set from Sweet Dixie in green card, and coloured the stem with a brown alcohol marker.
I used some PVA glue along the stem to attach the largest to the bottom left hand corner and the smaller of the two on the right hand side.
To finish the card off, I added 3 drops of Black Nuvo drops to opposite corners of the card...