Gingerbread House C5 Christmas card
Posted on
Hi Craft Addicts!
Today's card is a really bright and cheerful Christmas card using the Whopper Topper set from Hunkydory...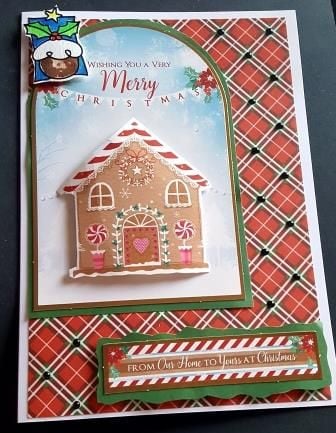 How I made this card:-
I took 2 sheets of the Gingerbread House topper sets (it includes everything you need to make a card from the topper to sentiment) and removed the main topper and one of the sentiments.
I then cut around the house as I wanted to add a bit of decoupage to my finished card.
I thought that the red tartan paper would go well with this design so cut a piece to fit the front of an A5 card leaving a narrow border all around it.
I stuck this down using PVA glue but you could also use either a tape pen or a wet glue.
I also stuck the main topper to some green paper as I thought it would work well but I must admit it didn't work quite as well as I didn't cut the arch bit out accurately but I don't think you notice in the finished card!
I attached it to the top left hand corner of the card using PVA glue and then added the decoupaged house using foam pads which gave it some height.
I then used the same green paper under the sentiment and attached that to the bottom right hand corner of the card using foam pads.
Finally, I had one of these cut Christmas Pudding Peel off stickers which I had coloured using alcohol markers and added it to the where the cutting out wasn't the best, again with foam pads.
And finally finally, I used Nuvo drops (the black ones) from Tonic Studios and dotted them around the tartan background.