Happy Birthday Sunflower on hand coloured background C6 card
Posted on
Hi Craft Addicts!
Today's card is a mix of dies, stamps and Pixie Powder style powders and together they make a really stylish Birthday card...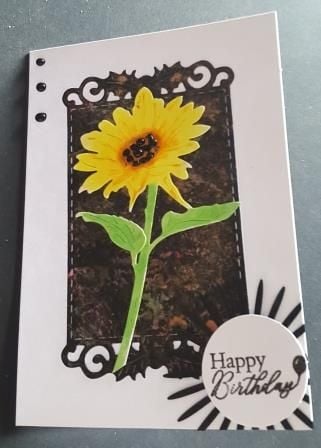 How I made this card:-
I had been playing (I seem to be doing a lot of that recently) with some Pixie Powders (from Creative Expressions) and Lynette Jasper's Pretty Gets Gritty Explosion Powders and I rreally liked how this background turned out.
To create the background, I tapped various colours on to some white card and then spritzed some water on top of it and allowed it to spread. I repeated the process until I was happy with the result.
I let it dry and then cut out the middle sized die from the Noel Frames set from Sweet Dixie.
I had cut out this Sunflower die (from Tattered Lace) ages ago in white card and coloured it in using Zig Clean Color pens - Yellows, Oranges and Greens predominately. You can of course colour it in using Alcohol markers, watercolour paints etc.
I trimmed the stalk a bit as i wanted it to fit the frame and then attached it using PVA glue.
I then stuck the whole panel on to the front of a C6 white card (so many Companies produce these such as Hunkydory and Lynda Chapman's World of Paper from Creative Crafting World).
I wanted it to have a sentiment so used the Happy Birthday stamp from For the Love of Stamps (Hunkydory) Sweet Sentiments set and stamped it on to a pre-cut circle in white card using Black Gina K Amalgam ink.
I cut out a flower in black card, stuck the sentiment to it and then added it to the bottom right hand corner with PVA glue and then trimmed it so it didn't overhang.
Finally, I added 3 drops of Black Nuvo Drops (from Tonic Studios) to the top left hand corner and some more into the centre of the flower.
And there you are - a quick and easy Birthday card that is bright and cheerful.