Winter Greetings.... bird in silhouette on Holly wreath shaped Kraft card
Posted on
Hi Craft addicts!
I have been playing with some dies from Tattered Lace and Paper Boutique along with some stamps and came up with this card - I hope you like it :)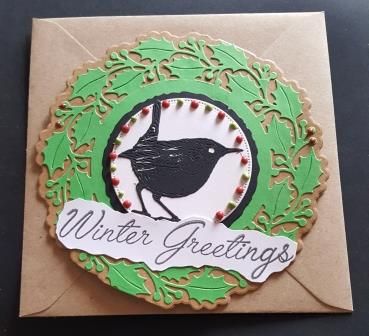 How I made this card:-
I first of all took a 5" Kraft card (already pre-scored) and placed the outer edge of the Seasons Greetings Die set (from Paper Boutique from Creative Crafting World) on top of both layers, slightly offsetting it so that some of the die wasn't actually cutting the card.
Once it was cut ok, I then cut out the Holly Wreath frame in Green card and stuck it to the card with PVA glue.
I then trimmed the bottom of the card so that it stood up properly.
I also cut out two circles (one in black which is a Tattered Lace Deckle edged die) and the second in white which has a pin dot edge and again is a Tattered Lace die. I then glued them together with PVA glue.
The bird (which could be a Robin if you cut it out in white and coloured it in or even Brown and Red card) is also a Tattered Lace die and I stuck it in the middle of the card.
I then attached the whole topper to the middle of the card so that there was a narrow border around it.
Using Red and Green Nuvo Drops (from Tonic Studios), I added them to the edge of the white circle, alternating the colours.
Finally, I stamped the Winter Greetings sentiment (I think from Rare Earth) onto some white card using black ink, cut around it and placed it at the bottom of the card with a tape pen.