Gnome hand drawn C6 Christmas card
Posted on
Hi Craft addicts!
I have been seeing these cute gnomes all over the place so thought I would have a go at drawing one myself - obviously it needs working on but it was great fun to do!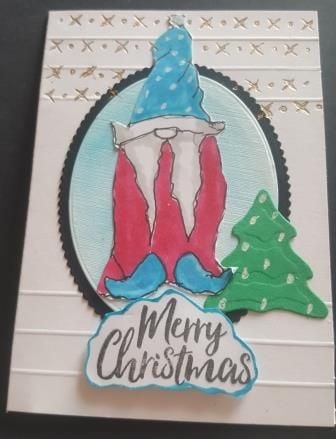 How I made this card:-
I first of all drew the Gnome in pencil using various other ones as a basis for my design - I then outlined it with a fine liner pen to make it stand out.
I then coloured it in using blues, reds and greys alcohol markers not worrying to much about shading (apart from his beard).
I cut it out close to the edge so I could use it as a topper.
I also cut out a Picot edged Oval using a Tattered Lace die and then a slightly smaller normal edged Oval one using another Tattered Lace die - I glued them together using some PVA glue.
Before attaching the oval to the front of a C6 white card, I used a scoreboard to score three lines (from the inside so it had an embossed feel) at the top and the bottom.
I realise now that I should have done the foiling part before adding the background and topper but hey ho... so anyway, I stuck them to the card again using PVA glue and added a small Christmas tree behind him.
I then used the new We R Memory Keepers Freestyle Foil Quill and placed some gold foil over the top of the card and foiled through the Furry and Bright stencil from Hunkydory's For the Love of Masks. I must admit it is a great tool and one I will be using more and more over the coming weeks!
I also stamped out the Merry Christmas sentiment on to some white card using Black Nuvo hybrid ink and cut around it - the sentiment is from Creative Expressions I think!
I edged it using a blue alcohol marker and stuck it to the bottom of the card using thick foam pads.
I decided that it needed something else so used a blue sparkle pen to add some glitter to the Gnome's hat and boots.
Finally, I added some white Gel pen spots to the tree and his hat.