With love - |Unicorn in silhouette on fancy background A5 card
Posted on
Hi Craft addicts!
Today's handmade card is one I really enjoyed making as it combines a mix of dies, stamps, papers and Distress Crayons (for the background).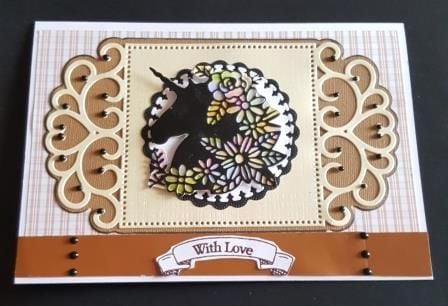 How I made this card:-
I had cut out the fancy background mat and layer (from a Die set by Paper Boutique, Creative Crafting World) in an ivory/cream colour for the mat and Kraft card for the layer.
I glued them together using some PVA glue and put it aside until I had finished all the other things!
I cut a panel of the brown and cream checked striped paper (to be honest I can't remember where it came from) to fit the front of an A5 card and stuck it down using PVA glue.
I cut a strip of brown paper (from the Browns Colour Families 8" paper pad) and glued it to the bottom of an A5 card which I had used on its' side.
I then cut a scalloped circle (to fit inside the frame) in black card (Lynda Chapman's World of Paper) and another slightly smaller one in white card and glued them together.
I also cut out the Unicorn in silhouette in black card (it is a Crafter's Companion die) and placed it over a panel of hand coloured card which I had made previously using Tim Holtz Distress Crayons (the pastel shades).
I cut around it trying to keep as close to the edge as possible.
I then stuck the Ornate frame on to the front of the card again using PVA glue and then added the black and white circles to that.
I added the Unicorn topper to the card, this time using foam pads as I wanted to have some dimension to it.
I also stamped the With Love sentiment from a collection by Hunkydory's For the Love of Stamps in black - it is in two parts - the scroll and sentiment) and I used Gina K's Black Amalgam ink to do this. When it was dry I stuck it to the bottom of the card in the middle.
Finally, I added 3 drops of Black Nuvo drops (from Tonic Studios) on either side of the sentiment and on some of the ornate frame.