Happy Birthday flowers and ivy square card
Posted on
Hi Craft addicts!
Today's card is a hand painted flowerand ivy themed Birthday card which is simple to make but looks good (well I think it does) :)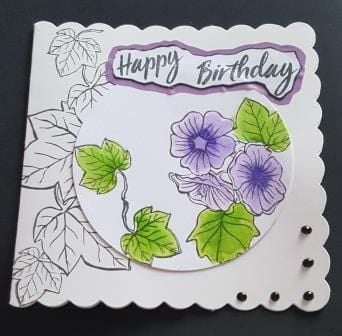 How I made this card:-
I first of all took the Ivy stamp (it is a really large one) from the A5 stamp Flower Vine set and put it on an acrylic block and used Black Nuvo Ink to cover it (making sure that it was covered).
I then stamped the left hand side of a 6" Scalloped edge white card directly as I wanted it to stand out.
I cut out a circle using a Tattered Lace Pin dot die (it measures 3.5" approximately) in white card.
I used the floral spray and the individual ivy leaf to stamp on it again using Black Nuvo ink.
I coloured them in using Zig Color Water Colour pens and a paint brush to blend them down - you can of course colour them in any colour you like!
I then used some PVA glue to stick it to the middle of the card.
For the sentiment, I used the 2 words Happy and Birthday (I think they are from Crafter's Companion - I must admit i prefer the sentiments to the flowers in their sets but that is a personal preference of course and stamped them on to some white card.
I then cut around it in a wavy design, stuck it to some lilac vellum paper (from DoCrafts Xcut range) and cut around that using the white edge as a guide.
I stuck that to the top right hand corner again using PVA glue.
Finally, i added some Black Nuvo Drops to the bottom right hand corner to balance things out.
And there you are a simple but bright Birthday card that is easy to make....