Boo! Cute ghost on oval background C6 card
Posted on
Hi Craft addicts!

Hallowe'en is really nearly upon us and this card is one of my favourite ones I made as it is simple but fun. See how it was made below....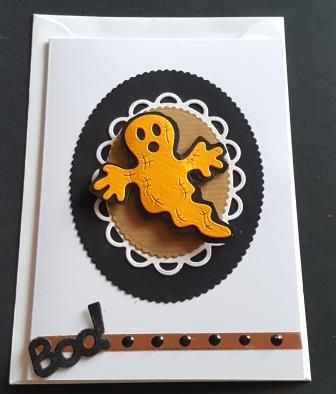 How I made this card:-
I first of all cut out the Ghost and Boo! using Sweet Dixie dies - the former in orange cardstock (from Create & Craft's Core Collection) and the sentiment out in black (Lynda Chapman's World of Paper).
I had cut out the scalloped edged oval background using a Spellbinder's die (not sure which one it is to be honest) in white card and then cut out two ovals (with Picot edge), the smaller in Kraft card and the larger in black card - both of them are Tattered Lace dies.
I stuck the smaller oval on to the scalloped edged one using PVA glue and then attached it to the larger one again using PVA glue.
I placed it on to the front of a C6 white card, working out where exactly I wanted it but before sticking it down, I used some medium Ultra strong Red Liner tape and added a strip to the bottom of the card.
I removed the red liner and added some of the Copper/Rose Gold foil and burnished it down until I couldn't feel any more tackiness.
Once that was done, I then stuck the main background on to the card using PVA glue.
I felt the ghost would "fade" against the Kraft card, so stuck it on to some Black card, cut around it leaving a narrow border and then attached it to the card using thick foam pads.
Finally, i used PVA glue to add the sentiment to the bottom left hand corner and added some Black Nuvo Drops (from Tonic Studios).