Happy Birthday Hot air balloon Monochromatic C6 card
Posted on
Hi Craft addicts!
I hope everyone had a great weekend and the week ahead will be a good one! I have had this Hot Air Balloon die-cut (from a Tattered Lace die) for ages and wanted to use it and came up with this C6 card.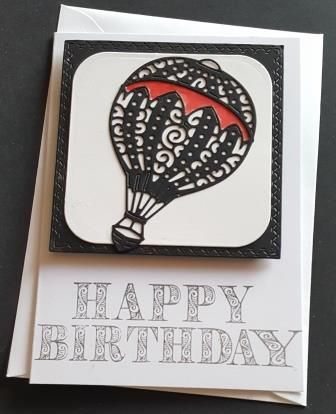 How I made this card:-
I first of all cut out the Hot Air Balloon topper (from a Tattered Lace Die) out using Lynda Chapman's Black card.
I then cut out a square layer (approximately 3") in black card using a Tattered Lace Die (but any will do) and then a slightly smaller one in white, this time a die with rounded edges.
I stuck this to the black layer using PVA glue.
I then used some more PVA glue to attach the balloon to the card - I put some on the back of my hand as it gives greater control but you do need to test for any allergy etc or you could used Sticky Dots which puts glue only on the areas you need.
Before placing the topper on to the front of a C6 white card, I used the Happy Birthday sentimernt stamp from Stamps by Me latest collection and stamped it using a black ink (Gina K, Nuvo or Versafine will be great for this).
I did think of colouring the words in but decided against it and just added some red highlights to the balloon using a Red alcohol marker.
Finally, I placed the topper on to the card using foam pads.