You are on my mind... yellow poppies hand coloured 7x5in card
Posted on
Hi Craft addicts!
I had created the background some time ago - not quite sure what to use it for but then it came to me that the flowers looked liked poppies and so made this card... I have been thinking of creating it as a downloadable background paper - so watch this space!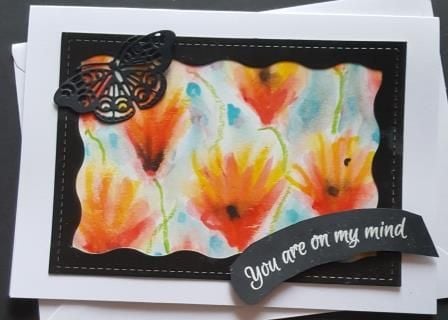 How I made this card:-
To make the background, I used yellow and orange and brown Tim Holtz Distress Crayons to create flower shapes on to some smooth paper (not Yupo this time), blending them in first with my fingers and then used paintbrush and some water to soften the edges even more - as you can imagine, each flower is different which adds a different dimension to them.
I cut out a frame in black pearlescent card (from Create & Craft) using the larger of the dies from Time for Tea.
I placed the frame over the background, glued it in place using some PVA glue and trimmed it to fit.
I used the same PVA glue to attach the whole thing to the front of a 5" x 7" card which I had turned on its' side so the fold was at the top.
I had cut the butterfly/moth out from black card ages ago and think it is a Tattered Lace die but I could be wrong.
I used a small amount of PVA glue along the body and stuck it at an angle in the top left hand corner.
For the sentiment, I used the You are On my Mind wording from the Amazing Sentiments collection from Creative Expressions.
I brushed an anti-static bag over some black card (Lynda Chapman's World of Paper, Creative Crafting World) and stamped the phrase on to it using Versamark ink (which is a sticky ink so it "grabs" the white embossing powder. I dusted any excess off and heat set it.
I then cut around it and placed the sentiment in the bottom right hand corner using foam pads.
And there you are - a card suitable for sending to someone to say you are thinking of them.