Spooky - Fox in forest with bats and raven 6in cream card
Posted on
Hi Craft addicts!
Well, Halloween is drawing nearer and I have made another card using a mix of dies on a hand painted background.. great fun to make once again and I hope you like it...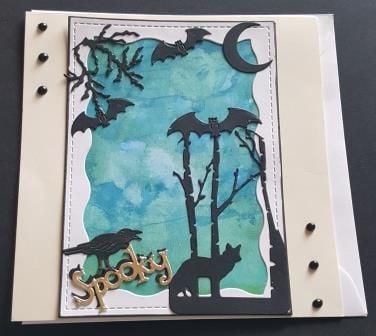 How I made this card:-
I first of all created the background using various blue and green Sparkle paints (inks) from both Stamps by Me Gossip range and Crafter's Companion Spectrum Noir range.
Once I was happy with the effect (I must admit I painted it before thinking of using it for this card.
I then cut out the frame in white pearlescent card using a die from Time for Tea and stuck it on top of the background using PVA glue.
I then edged it in black using an Alcohol marker.
I had various Halloween themed die-cuts (in black card) left over from various Companies such as Tattered Lace and Sweet Dixie and so I placed them over the background, deciding where I wanted everything to go.
Once I was happy with the design,I glued everything in place again using PVA glue.
I then stuck the whole thing on to the centre of a 6" Cream pearlescent card (from Create & Craft).
I added the Spooky sentiment which I had cut out in Black and gold - I stuck the former down directly on to the background and then off set the gold one slightly.
I then added the raven die-cut so it was standing on the word.
Finally, I added 3 drops of Black Nuvo drops from Tonic Studios to opposite corners.
And there you are, one way of using a hand painted background, some die cuts and a square card....