Boo! Cute ghost and church yard black and white C6 card
Posted on
Hi Craft addicts!
This is a really simple card to make as it contains just black and white paper and a few dies...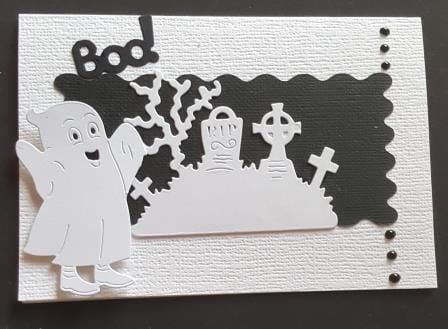 How I made this card:-
I first of all cut out all of the relevant elements - the ghost, the churchyard and the Boo! sentiment - the first two in white card and the latter in black.
I also cut out the mat layer (from a Time for Tea set - I think it is called Fishing in black card.
I used PVA glue to stick it to the middle part of a white linen effect C6 card.
I then stuck the Churchyard into the centre part of the layer again using PVA glue.
I added some foam pads to the ghost and place him/her to the left of the image.
I used PVA glue to stick the Boo! sentiment directly on the card.
Finally, I used black Nuvo drops to add some drops to the right hand side so it balanced the card out.
And there you are - a really simple but fun card that would be great for Halloween.