Birthday Wishes.... Flower spray hand coloured C6 white card
Posted on
Hi Craft addicts!
I hope you all had a great weekend! I had fun making this Birthday card and have written down how I made it below....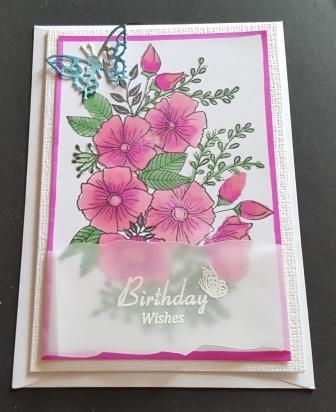 How I made this card:-
I first of all took a piece (pre-cut to A6) of white card - several Companies now have these for sale - but the one I used was from Rare Earth. They are so useful as they don't waste a lot of card when you are only stamping one thing!
Talking about stamping.. I took the Flower Garden stamp (which is a large stamp approximately 4" x 3") and placed it on an acrylic block - as it is a big stamp, it would also be a good idea to use a stamping platform.
I tapped Gina K Obsidian Black ink all over it and placed the stamp on the card and pressed firmly all over it to give a good impression.
I then used a variety of shades of Pinks, Reds and Green alcohol markers and coloured the flowers and leaves in trying to blend them in as well as possible.
Once I was happy with it, I trimmed it down so there would be a narrow border when I attached it to a C6 white card - but before glueing it down with some PVA glue, I edged it with the chisel edge one of the Pink alcohol markers.
But before sticking it down, I cut a strip of vellum/parchment and stamped the Birthday Wishes sentiment on to it with some Versamark ink (using an antic static bag first) and poured some white embossing powder over it, removed the excess and heat set it with my heat gun.
I then made sure that the sentiment was in the middle of the topper and folded the sides over the topper and stuck them down with some tape.
Using PVA glue as I said, I then stuck it to the front of the card.
Finally, I felt it needed something else so found a small Butterfly (a Tattered Lace die-cut which I had cut out of Silver Mirri card which I had coloured with Alcohol markers first of all) and then stuck it to the top left hand corner with some PVA glue.
And there you are a really pretty card that would be lovely to receive!
Products that you will need to make this card:-
C6 white card and envelope - many varieties are out there from Hunkydory to Create & Craft - I do have a gripe about cards in that you get one C6 card from one supplier and then another from a different one and they aren't the same size! Please can we have consistency!
Woodware Flower Garden stamp set
Alcohol markers from Prism (Hunkydory), Nuvo (Tonic Studios) and Spectrum Noir (Crafter's Companion)
Birthday sentiment stamp - not sure where from
Vellum/Parchment
White C6 card pre cut - Rare Earth
Silver Mirri Card - Hunkydory or Kanban
True White Embossing Powder
Heat gun
PVA glue such as Pinflair's Glue it or Cosmic Shimmer