Thinking of You poppies and ferns C6 card
Posted on
Hi Craft Addicts!
I found this stamp recently and thought it would be great to use for a Thinking of You card which would be suitable for Poppy Day or just to say that you are in someone's thoughts....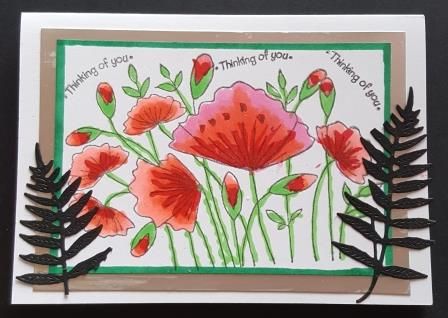 How I made this card:-
I then coloured the poppies in using three Red colours from Hunkydory's Prism Alcohol Craft markers, trying to make the blending as smooth as possible!
I then used some of their green markers to colour in the leaves and stalks.
Before adding the topper on to some Silver Mirri card (again from Hunkydory), I edged the border with a green alcohol marker so it tied in with the leaves.
I used a PVA glue to attach it, trying to make sure there was no smudge marks on the Mirri card.
I then stuck the whole thing to the front of a C6 white card which I used landscape so that the fold was at the top.
I also used a Spectrum Noir red Sparkle pen to give some sparkle to the poppies
I stamped the Thinking of You sentiment (from another Hunkydory For The Love of Stamps set 3 times towards the top of the flowers using the same black ink as before.
Finally, I had a Fern leaf already cut out (from a Tattered Lace die set) and so I cut it in two and added them to either side using PVA glue.