Set of 5 mixed sentiment gift cards
Posted on
Hi Craft addicts!
Well, the sun is shining a bit and so I thought I would write about how I made these rainbow themed set of 5 small cards - all hand painted and with a variety of sentiments on the front...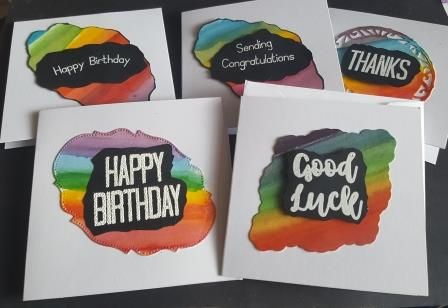 How I made this card:-
I first of all painted 5 different rainbow patterns on to some white card - you can use watercolour card but I used Hunkydory's Ink me card as I wanted a smooth surface!
I tried to keep each of the rainbow patterns so that they fitted on the front of the card.
Once they were all dry, I cut them out with an irregular pattern - must admit a couple of them are die cuts but I can't remember what ones they are - think they are Tattered Lace and Tonic but could be wrong.
I then used a variety of sentiments and after using an Anti-static bag over some black card, I stamped them on to it using Versamark ink and then heat embossed them.
I edged all of the backgrounds with a black alcohol marker so they stood out a bit and stuck them to the fronts of each of the cards using PVA glue.
I also cut the sentiments out, again using an irregular pattern and stuck each of them to the front of the card again using PVA glue.
And there you are a set of 5 small cards that could be a gift (especially if you include some stamps) or just for your own use.