Happy Haunting - Owl on branch with coffin Halloween Card
Posted on
Hi Craft addicts!
I hope you had a great weekend! Today's card is one I had great fun making using mainly Sweet Dixie dies on a background I painted myself. If you want to read how I made it then just carry on reading!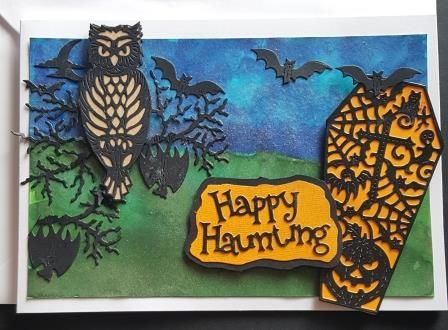 How I made this card:-
I used Sparkle watercolour inks from Spectrum Noir to create the background (mainly blues and greens for the sky and the grass) and left it to dry.
Whilst it was drying, I cut out the Owl several times (from the Moonlit Owl and Bats Die set from Sweet Dixie) in black card (Lynda Chapman's World of Paper).
I also cut out the Coffin (from Sweet Dixie again, this time their Filigree Coffin set) and the Happy Haunting sentiment (from the Happy Haunting set), all in black card.
Once the background was dry, I stuck it to front of an A5 white (landscape style) - the fold is already at the side rather than the top). I used PVA glue but you could use a wet glue such as Collall too.
I then stuck the Owl on to the top of the left hand side, again using PVA glue.
I wanted to give it some dimension, so I glued the Owl to some Kraft card and cut around it, stuck it to another of the black die-cuts and then added it to the existing Owl using foam pads.
I used PVA glue to attach the Coffin to some Orange card, cut around it and added it to the bottom right hand corner with some foam pads.
I also used PVA glue to create the sentiment, sticking it to the same Orange card as the Coffin, cut around it in an irregular way, stuck that to some black card, cut around that using the edge of the orange card.
As the Coffin was slightly raised, I used a double layer of foam pads on the left hand side of the sentiment and single one on the right and added it to the card over the Coffin.
Finally, I added some more bats to teh scene to create a bit more atmosphere.
And there you are, a bright and cheerful but spooky card for Halloween - you can buy it here on my website GC00007. After I had made it, I did think this would make a great scene for a Box frame or MDF plaque...
Products you may need to make this project:-
A5 Landscape white card with envelope - Lynda Chapman's World of Paper from Creative Crafting World
Sweet Dixie Filigree Coffin die set
Sweet Dixie Happy Haunting die set
Sweet Dixie Moonlit Owl with bats die set
Sparkle Watercolour ink bottles from Spectrum Noir from Crafter's Companion (Blues and Greens)
Black cardstock - Lynda Chapman's is great for die cutting
Orange cardstock - I used the Citrus Burst set from the Core Collection from Create & Craft
Kraft card
Collall All Purpose glue
Cosmic Shimmer or Glue it Glue (Pinflair)
Foam pads
Die cutting Machine - I used my Baby Blue (3" mouth) for most of these items - the only one I needed a larger machine for was the Owl die - A5 or A4 machines will do such as the Gemini Junior and Snap machine for A5 or Gemini and Cut n Boss for A4