Smile... Bird and a teacup with butterflies.... 7x5in card
Posted on
Hi Craft addicts!
Today's card is very much out of my comfort zone as I am not really a Pinky sort of person... but I did enjoy using the Sue Bake dies and stamps... To read how I made it look beneath the photo!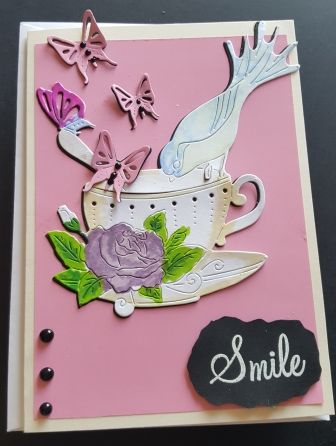 How I made this card:-
I first of all die cut the Bird and teacup image (Sue Baker's Bird and Blossoms Die and Stamp set - Tea Time) out twice, once in black card (Lynda Chapman's World of Paper) and another in white. It is a large die so you will need a larger die-cutting machine (A5 up)
I then coloured the white piece in using alcohol markers ( you can of course colour it in any way you want!)
I used a sheet of 8" pink paper (from the Colour Families paper pad range from Hunkydory) and trimmed it to fit the front of a 5" x 7" cream card (available from Create & Craft's Core Collection), leaving a narrow border all around it.
I stuck this down to the front of the card using a tape pen (I didn't use a wet glue as it sometimes shows through the card).
I used a PVA glue to stick the black topper to the card (towards the top of it) and then added the coloured in one to it slightly offsetting it so you can see some of the black.
I had also cut out two of the butterflies that come in the set in black and pink and added the black ones first to the card and then added the pink one on top of them as I thought they would get lost if I just used the latter.#
I stamped the Smile sentiment (from the same set) on to some black card using Versamark ink (having previously dusted the card with an anti-static pad), added some True White Embossing powder to it and then heat set it.
I cut it out in an oval wavy shape and then added it to the bottom right hand corner with some foam pads.
Finally, I added some black Nuvo Jewel drops to the left hand corner to balance it out.