Chills and Thrills Owl themed Halloween card
Posted on
I had great fun making this card and it is quite simple to make - just a few dies, a stamp and some inks! So if you want to find out how I made it... read on!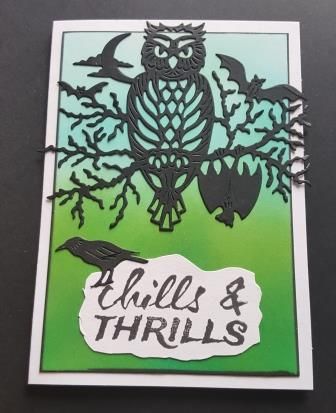 How I made this card:-
I first of all cut out the Moonlit Owl and Bats dies (from Sweet Dixie) in black card (Lynda Chapman's World of Paper).
I also cut out the Raven in black card from the Gravestone set, again from Sweet Dixie.
Using shades of Green inks (ink cubes/pads from Rare Earth, Tim Holtz Distress inks and Prism inks), I created an Ombre background effect.
I trimmed it so that it fitted an C6 white card (allowing for a narrow border all around), edged it with a black alcohol marker and attached it using PVA glue.
Once that was done, I then added some PVA glue to the back of the main topper and stuck it to the top of the card (some of the branches do hang over the side of the card).
I then stuck the bats, moon, clouds on to the card where I thought they would look right.
I used the Chills & Thrills stamp sentiment from Rare Earth's 6" Spooky Sentiments set and stamped it out on to some white card using Gina K's Obsidian Black ink.
I cut it out and then glued it to the bottom of the card and added another of the ravens to the C of Chills again with PVA glue.
And there you are, a really fun card that could be great to give for Halloween (you can also buy it in my shop GC00004).