Happy Birthday 2 cats with wool 7x5in card
Posted on
Hi Craft addicts!
Today's card is a really simple but I think striking one and can be made very quickly! If you want to know then read on!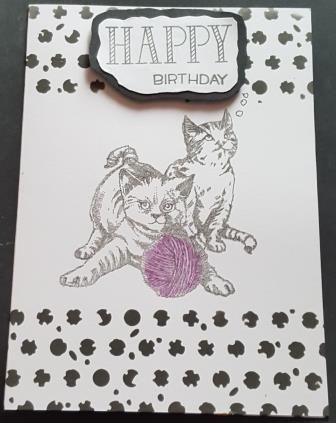 How I made this card:-
I masked off the centre part of a 7"x 5"white card (so many suppliers produce them but some appear thinner than others due to the way they are produced so I usually use Hunkydory or Creative Crafting World) using some masking tape.
I then used part of For the Love of Masks Distress Dots stencil and using Gina K's Obsidian Black ink, coloured through it several times until I was happy with the effect and let it dry a bit.
Once it was, I removed the tape carefully, making sure I didn't take any of the card away with the tape.
I put the cat stamp from Rare Earth's A4 Best Friends Forever set onto an acrylic block, inked it all overand stamped it in the centreof the card.
I then used some purple watercolour paints to colour in the wool.
Using the Happy Birthday words from Lawn Fawn's Happy Happy Happy Stamp set,I stamped it on to some white stamping card, again using the Obsidian ink from Gina K.
I then cut around it and stuck it to some black card using PVA glue and then cut around that.
I used foam pads to attach it to the top of the card.
And there you are, an easy card to make but if you would like to buy it then just go to my shop and type in GC00003.

</script>