Smile.. Birds and Blooms set of 3 gift tags hand painted
Posted on
Hi Craft addicts!
These are practice pieces really as I was trying making my own tags and then see what I could do with them and voila! here are my gift tags....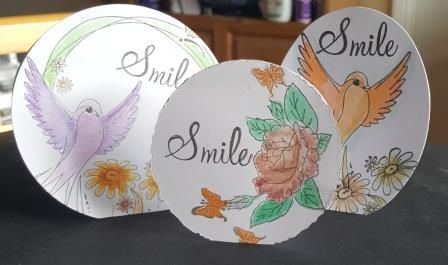 How I made this card:-
I first of all cut two ovals (approx 3.5" x 2.5") out in white card and scored a small flap at the top of one of them.
I then glued them together, making sure that the flap was at the top and then folded it back so it stood up properly.
I repeated this process for the two circles again in white card - the larger is 4" in diameter and the smaller one 2.5")
I used various stamps from the Sue Baker's Birds and Blossom stamp collection (there are also dies to go with them) and you can buy them on the Create & Craft website here
I first of all used one of the Hummingbirds and stamped it in Black ink (Gina K) on the oval card and then the flowers just beneath it. I also stamped the Smile sentiment above the bird, again using the same ink.
I used the Bird wreath stamp for the larger of the circle cards and one of the flower sprays for the smaller of the circles.I also added some butterflies to that one.
I also stamped the Smile sentiment on all of the cards.
I coloured all of the images in with watercolour paints (Kuretake's Gansai Tambi set and also Toni Darroch's Stamp by Me website
And there you are three easy and pretty gift tags that can be made in a matter of moments!