Happy Halloween Skulls, bats and eyeballs DL card
Posted on
Hi Craft Addicts!
I had a really great time making this card as it is quite different to my usual style! It is very easy to make and I hope you will carry on reading to find out how I did it!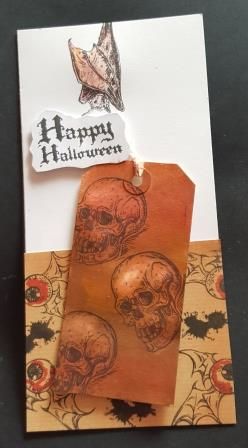 How I made this card:-
I first of all took a Kraft tag (medium size) and painted all over it using brown Mica paints so that it sparkled when dry!
I then took the plain skull from the Hubble Bubble Stamp set and stamped it three times on the card with black permanent ink.
I did wonder if the paint would "bleach" if i added some water and so I used a paintbrush to paint some of the areas out (and some worked better than others as you can see) but I must admit I like the effect as it does look as if the lifht is shining especially on the middle one!
I wasn't quite sure which size card to use but eventually decided on DL and so took a piece of light Kraft card and trimmed it so that it fitted the bottom 1/3rd and before sticking it down, I coloured the edges of it with the same brown Sparkle ink.
I then used the eyeball with wings stamp (from the same set as the skull) and stamped it in each corner, again with the same black ink. I also took the ink splat from the same set and stamped it in between them.
I took a red alcohol marker and coloured the eyeballs in and once done, used PVA glue to stick it down.
I stamped the bat at the top of the card using Black ink and then stamped the Happy Halloween sentiment on to some white card and trimmed it with a wavy edge.
I put some Rusty Hinge and Aged Mahogany Distress Crayons onto a glass mat and then painted the bat with them and let it dry for a bit.
I used foam pads to add the tag at a slight angle and then some more to add the sentiment.
And there you are.... a fun card to send out at Halloween!