Love the bones of you skull and crossbones 6in white card
Posted on
Hi Craft addicts!
I really love these dies from Lynda Chapman's Paper Boutique die range - This one is called Love the Bones of You and contains the large mat layer, the inside skull die and then a smaller circle die and the two sentiment dies (one is the wording, the other the mat).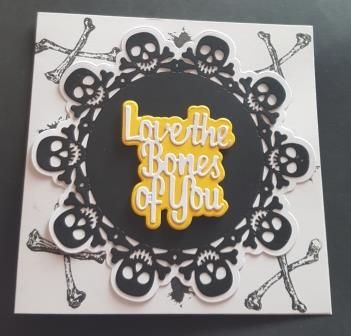 How I made this card:-
I first of all cut out the mat layer and sentiment dies from white card
I then cut out the skull layer die using black card and stuck the two together using PVA glue
I then cut out the sentiment mat layer in bright yellow card and glued the sentiment to it using PVA glue - you could also use self adhesive paper or even a Xyron machine..
I felt that the card itself needed something extra so used the Crossbones stamp from Rare Earth's Hubble Bubble 6" stamp collection and stamped around the edge of it with black ink.
I then used PVA glue to attach the skull and crossbones mat and layer to it and then added the sentiment with foam pads.
Products you might need for this project
Love the Bones of You die set from the Paper Boutique range from Creative Crafting World
Hubble Bubble 6" stamp set from Rare Earth
6" white card and envelope - so many Companies provide these now, from Create & Craft, Hunkydory and so on...
Black card
White card
Yellow card (this is from Create & Craft's Core Collection)
Obsidian Black ink pad from Gina K
Foam pads
PVA glue such as Pinflair's Glue-it glue, Cosmic Shimmer PVA glue
If you want to see more of what I have done, then you can always visit my previous blog site at craftaddict14.blogspot.com
You can also follow me on Facebook, Twitter and Instagram