Just for you.... donkey ride at sunset 7x5in tent fold card
Posted on
Hi Craft addicts!
Well, Summer is drawing to a close and the Autumn is upon us but I have made this card to remember those lovely times at the seaside... I enjoyed making this as it is a mix of stamping, die-cutting and blending inks! Just so you know that I have added the products used after the instructions so you can buy them if you want to!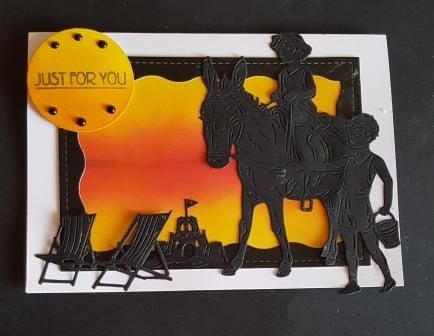 How I made this card:-
I took a piece of white stamping card which is approximately 4" x 6" and using various Yellow, Red and Orange Distress/Dyebased ink pads (don't use Distress Oxide inks with any of the blenders you might use as they don't like each other) blended them in duplicating the sunny yellows at the top and bottom and then the orange and finally the red.
I added a blurred line along the centre to give the impression of land in the distance.
I used the Time for Tea Fishy largest dies to cut out a frame in black card as it carries on the theme of a silhouette.
I then glued the sunset background to the reverse of the frame using PVA glue.
Using PVA glue, I then stuck the whole panel on to the front of a white 5" x 7" card.
I cut out the deckchairs, sandcastle and Children with donkey dies in the same black card and stuck the latter on the right hand side with PVA glue.
I also stuck the sandcastle just to the left of the donkey, again with PVA glue.
I then used some thin foam pads to attach the deckchairs to the bottom left hand corner.
I stamped the Just for You sentiment on to a small circle of white card and using the same inks blended them in so it matched the background. I then used foam pads to attach it to the top left hand corner.
Finally, I added 3 drops each at the top and bottom of the sentiment.
And there you are... a bright and cheerful card that would be great to give to someone to say you are thinking of them...
Products you might like to buy to make this project
Tattered Lace Beach Donkey Ride die
Tattered Lace Pier set of dies
Small Circle die (about 1.75")
5" x 7" white card with matching envelope (so many suppliers sell them now but I use Hunkydory, Create & Craft and Lynda Chapman's World of Paper
White stamping card - again a lot of Companies produce this but I use Rare Earth Stamping Card, Hunkydory's Ink Me Card and also Lynda Chapman's World of Paper
Black card - I use Lynda Chapman's World of Paper as it is just the right weight for die-cutting etc
Distress and Dyebased inks - such as Tim Holtz Distress inks, Rare Earth or Prism (Hunkydory)
Just for You sentiment stamp from For The Love of Stamps from Hunkydory
Gina K Obsidian Black ink (currently out of stock at Bumbleberry Crafts)
Jet Black Nuvo Drops from Tonic Studios
Foam pads
PVA glue such as Cosmic Shimmer, Glue it Glue from Pinflair etc