Tweet Tweet - watercolour landscape DL white card
Posted on
Hi Craft addicts!
So today's card is one I have made using stamps from Sheena Douglass's Everyday Perspectives - Out on a Limb A4 set along with some watercolour paints - if you would like to find out how I made it then read on!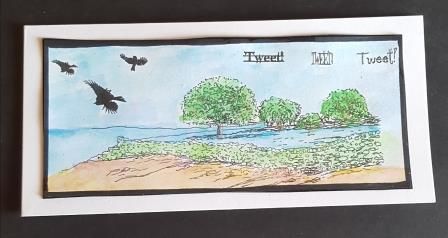 How I made this card:-
I first of all took a piece of white stamping card and trimmed it to measure approximately 6" x 2.5" (so it fitted the front of a white DL card).
I placed it in to the base of a stamping platform which needs to be a larger one so I used the 8" Rare Earth one i have and used some tape to attach it so it didn't move about.
When I was sure it wouldn't move, I took the landscape scene stamp from the set and set it towards the bottom of the card. I also added the 3 birds and the 3 different Tweet stamps on to the card positioning them where I wanted them.
Once I was happy with the scene, I picked them up on the opposite side of the platform by closing it gently.
I then used Obsidian Black ink them, making sure the stamps were covered and closed the lid down, this time slightly harder so it gave a good impression - the advantage of a stamping platform is of course if you don't quite get it right, you can repeat the stamping without the worry of missing the original image.
Once it was dry (which is very quick), I then used some different shades of blue watercolour paint re-inkers (Rare Earth, Tim Holtz Distress ink) too create the sky and darker blues to give the idea that there was either a lake or sea behind the trees.
For them, I used different shades of greens, not worrying too much if I went over the lines as watercolouring is meant to be more forgiving!
I took some sandy brown paints (this time from Toni Darroch's paint wheel and painted the ground/soil under the hedgerow.
I then left it to dry - you can use a heat gun or leave it to dry naturally.
I edged the panel with the chisel tip end of a Black alcohol marker and stuck it with some PVA glue to the front of a side-fold white DL card.
Products you might need for this:-
DL sidefold white card and envelope (from Lynda Chapman's World of Paper from Creative Crafting World
Sheena Douglass's Everyday Perspectives Out on a Limb A4 stamp set (it was available from Create & Craft)
Watercolour re-inkers - Rare Earth, Tim Holtz Distress inks or any other ones will do
Watercolour paint wheel from Toni Darroch's Stamps by Me
Gina K Obsidian Black ink pad (Gina K is an American Company but you can get it here in the UK from Bumbleberry Crafts) - oh yes she does brilliant tutorial videos on Facebook and You Tube
Black alcohol marker - one with a chisel end is best
PVA Glue such as PInflair's Glue it Glue or Cosmic Shimmer is great for this - I will be doing a blog comparing glues soon!
Stamping platform - Rare Earth, Crafter's Companion, Hunkydory's Prism or Stamps by Me are good ones.