Woof... Hello Jack Russell Black and White A6 card
Posted on
Hi Craft addicts!
Today's card is a fun, quick and easy to make which was created using a few stamps, some ink and an a6 white card... if you would like to find out how to make it then read on!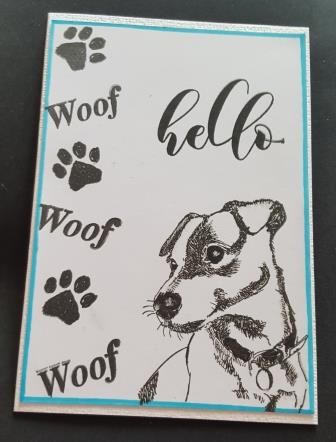 How I made this card:-
I first of all took a piece of white stamping card and trimmed it so that it fitted the front of an A6 white linen effect card leaving a narrow border around it.
I then took the Jack Russell stamp from the Paws for Thought A4 stamp set from Rare Earth and stamped it in the bottom right hand corner with Gina K Obsidian Black ink.
As this card is for #Monochromatic Monday, I didn't add much colour to it as all of the shading is already in place, but I did add some Black Sparkle pen to his noseand collar.
I then took the Woof (from the same set) and stamped it three times, alternating the direction vertically down the left hand side.
I also used the pawprint in the same kit and stamped that in between the Woof.
I used a Hello sentiment (this one is from Altenew and is a mini stamp set and again using Gina K's Obsidian Black ink, stamped it above the dog's head.
Finally, I edged the panel with a bright Blue alcohol marker and attached it to the front of the card with some PVA glue.
And there you are, a very quick and easy card to make that is fun to do and would be great to receive! As mentioned before,I am going to do more and more posts like this (and maybe some with pictorial step by step option too) so if you would like to keep in touch with what is going on why not bookmark this page www.fizzydesigns.co.uk/blog or if you want to see other projects I have done previously visit www.craftaddict14.blogspot.co.uk
I have mentioned most of the products used in the description above, but if you would like a more detailed list, then why not let me know?